Springbank Garden - A private garden in North Wales, UK
Keith Nash, Anglesey, North Wales
Our garden is very much a team effort, as my wife Ann contributes a great deal of time, effort and patience to its upkeep and development but hates computers, so I'm the one who gets to write about it.

We both took early retirement from the 'Ratrace' and moved here from Gloucester. Ann is from North Wales, but I was born in the Cotswolds, in rural Gloucestershire.

The garden, which is just under an acre in size, is situated on a gentle east-facing slope overlooking the Menai Straits. When we took it over there wasn't much variety of plants but large areas of grass, which have subsequently been greatly reduced. The previous incumbent was a keen Fuscia grower and naturally concentrated on fuscias.

Unfortunately, we can't see much of the Straits because of the trees and shrubs in neighbouring gardens,but we do have rather nice views of the mountains, which at the moment are well covered in snow.

We are very lucky in having slightly acid soil and a mild, if somewhat damp climate, which allows us to grow Camellias, Rhododendrons etc., plus a few shrubs that would be considered too tender from where I come from.

There are outcrops of rock dotted around which we are beginning to make use of, to give some of the alpines a more natural setting. I should add that I don't consider myself so much of a gardener, but more of a plant collector. I'm really not into design and plant association etc.

The shrubs which we have planted are now beginning to mature and one in particular, the Embothrium, flowered very well last spring for the first time.

One of my targets for the garden was to have a least one plant in flower all through the year and we have now achieved that. In fact due the mild climate we do get some shrubs flowering at odd times. This year our Rhododendron 'Christmas Cheer' was in flower at Christmas, which believe it or not is unusual. On the other hand a Camellia Sasanquea which should flower in October performed very well throughout December.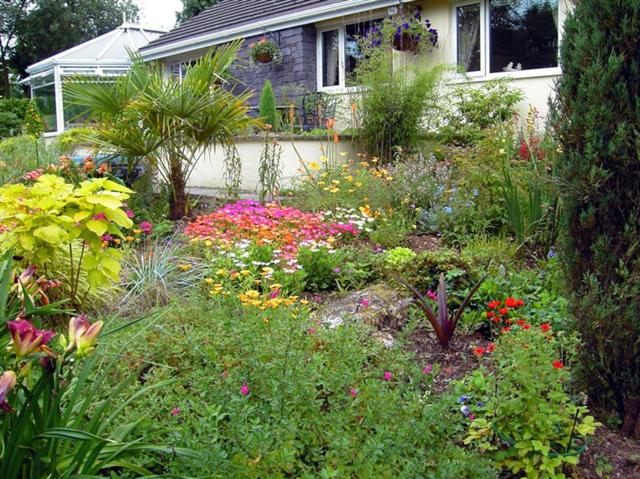 Photographer:- Keith Nash, Wales