Circle Garden
by Tina Wilson
Welcome to my garden. When my husband Larry and I finished building our home in 1990 we faced a blank slate with nothing but soil, a bit of scruffy grass and lots of rocks. It wasn't until the spring of 1992 that I started adding sketchy garden beds and plants to my first ever garden. I started off slowly adding a few plants given to me by family and friends plus a few meager purchases from a gal down the road selling plants potted up from her garden. In just a few short years I found myself hooked on gardening. I added multiple planting beds until the garden hose would reach no further. My garden has evolved over the years as I learned more about plants and designing. But mostly I learned from my mistakes. It's been a life changing experience. Now others entrust me to give them garden and design advice. The best part is I never stop learning and will never run out of things to discover about gardening. It's now part of who I am.

My Circle Garden was started in 2006. It's part of what I call my Picket Garden. Not long after building our home we added a picket fence around the front. The house sits on 5 acres, part of which is wooded including a steep bank to the creek below. The rest is 'field'. The picket was added so I had some structure and enclosure to work with. It gave me a place to work from. As you face the front of our home the Circle Garden is on the left.

Last year my cousin and I formed a doughnut shape in the lawn from what was once a patch of nondescript grass. To the center I added a rusty metal swirl sculpture with plants underneath and bricks lining the inside circle. In the bed surrounding the circle I kept some of the shrubs and perennials that were existing and pulled everything else out. It was exciting to start with a semi-clean slate. I designed a planting plan for the Circle Garden and have had a great time shopping for and adding plants ever since. I anticipate it will look full and lush in just a few short years.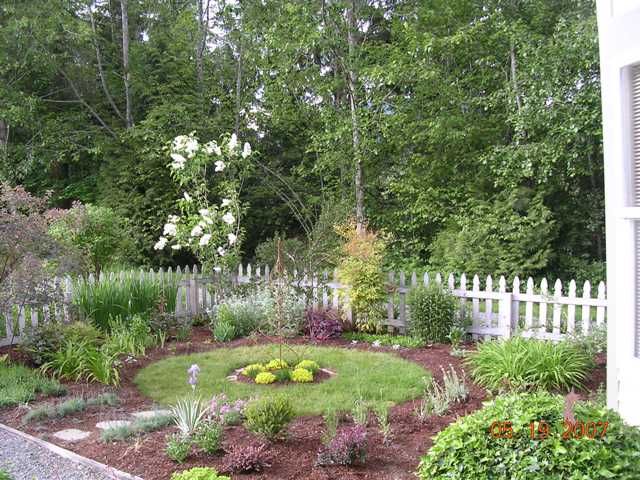 Photographer:- Tina Wilson, Arlington, WA, USA
Photo taken 5-19-2007. The garden is a mixture of established and new plants.