The sunken terrace project
By Lynda Adlington
Lynda made contact to say she was writing a garden book in Spain and wanted to keep a complete record of the plants and pics that are in the garden here and other gardens. Lynda chose Ideas Genie Pro for the job, and has now finished her first aerial drawing and labelling of garden areas.
Lynda writes:
We live up in the mountains about 40 minutes from Malaga at a place called Monda.
We moved from the UK to Spain but I lived in Zimbabwe. My husband's childhood was spent in the Gulf, Syria and Lebanon where his father, a Royal Navy officer, piloted oil tankers. Also lived in the Channel Islands which was good for gardening.
My husband has just finished an Historical novel based around this area and my book called 'The Menopausal Gardener' is about the big changes in moving here, life, and a complete new learning curve in mediterranean gardening ( and it certainly has been).
We have a rather large project on at present, digging out the front of the house to put french doors into basement rooms and am creating a sunken terrace with waterfall which will have steps leading upto the swimming pool. Trying to decide whether to go along a Japanese style of planting, maples, etc. or jungle with palms and ferns in the shady areas b the water feature. This set of photos shows the project under constructon, and finishes with photos of a few gorgeous plants growing in Lyndas garden.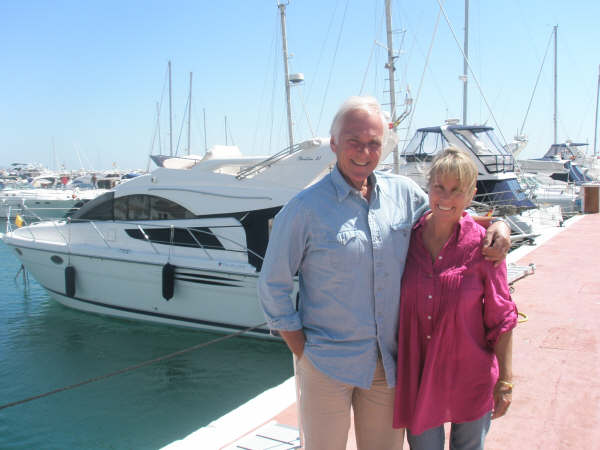 Photographer:- Lynda Adlington
Lynda and Alistair pose by their boat. Lynda tell me:
Used to sail (proper boats) but have just taken our Day skipper for motor boats and taking the easy way now. Its fun to be able to go out whenever you want and Alistair and Max our youngest (13) like a spot of fishing.