An impressive garden on Bainbridge Island, WA, USA
A private garden by John Bullivant
John is an amateur gardener, and the Kitsap chapter president of the American Rhododendron Society. As you can imagine he probably has a collection of Rhodies!

John did most of the garden design himself - the front of the house (below) with the Katsura tree had some bones in place - but he has added considerably in the 5 years they've been there.

In addition to Rhododendrons, John grows a collection of Ferns, Hardy Fuchias, Hosta's, Heathers, and many shrubs and trees.

In one of the earlier emails, John informed me that he had started propagating Rhodies and Fuchsias and a variety of shrubs, and needed to get a much better way to keeps records, as this was getting truly essential. Fortunately, he chose Ideas Genie!

Both John and his wife are orginally from England - John from Manchester and his wife from Penzance. They came to the States in 1981 (after a year in Holland) spending the first 21 years in New Jersey near Princeton - where John worked in New York on Wall Street.

They have three lovely Boxer dogs - a picture shown below. Note the Welcome sign just behind the welcoming party.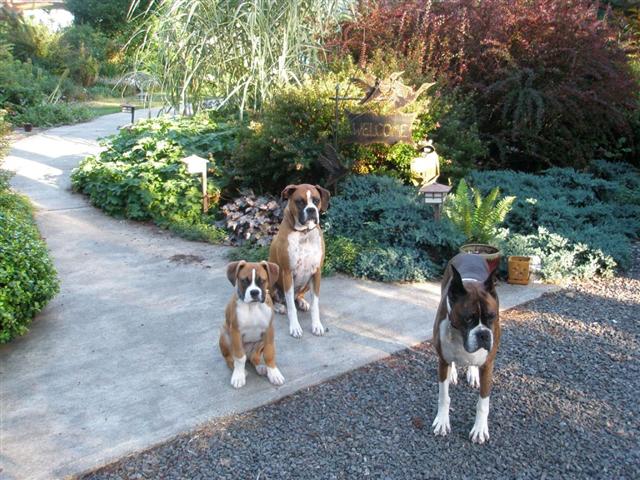 Photographer:- John Bullivant, WA, USA
The welcoming party